Hello everyone! I have a few layouts to share with you that I did over the weekend.
Happy Birthday to You: Photos of the girls on their 3rd birthday enjoying some doggie ice cream, pup cakes and plenty of fun toys. I used mostly The Paper Studio "Eat Cake" birthday stack and stickers. The circles are punched are using an EK Success Confetti Circle punch.
The design is based on the two page sketch for the Double Page challenge over at ACOT:
My Best Friend: An older photo of me with my parents' dog LB (Little Bit). He passed away 2 years ago. He was a good sweet pup.
Anyways, I used Echo Park "I Love My Dog" with the "Best Friend" and "Doggie Days" stickers being from The Paper Studio. They are actually clear stickers and they've been sitting on my desk for a while – trying to remind myself to use them up. So I backed them with solid cardstock and fussy cut them out. Alot easier to use them that way!
Layout is based on the Becky Fleck Sketch Challenge #176 over at ACOT: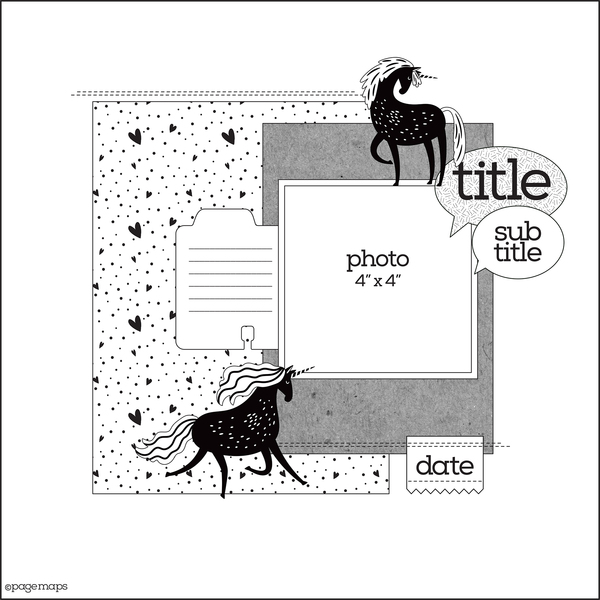 Dog – Furry Friend: Penny and Jeffrey playing together about 6 years ago. Unfortunetly Jeffrey passed away almost 3 years ago. Despite being 10 years older than Penny, he sure enjoyed playing with her. It was very sweet.
Again, used the Echo Park "I Love My Dog" collection. I did the Make the Cut Challenge, which was to use FOUR 6×6 sheets of pattern paper. I couldn't cut into them so naturally I put them in a grid design.
It was't me: This was during Penny's "tear everything up" phase. And when I say everything, she even tore up comforters and pillows. LOL! This time though, the victim was a plush toy. The look on her face is so priceless, like "It wasn't me. It exploded on its own". LOL.
I used mostly KaiserCraft pattern papers and stickers, with the light pink pattern paper from Elle's Studio and Basic Grey pink brads. Really wanted a pop of pink in there from that toy.
The journaling is even a quote from Miss Penny: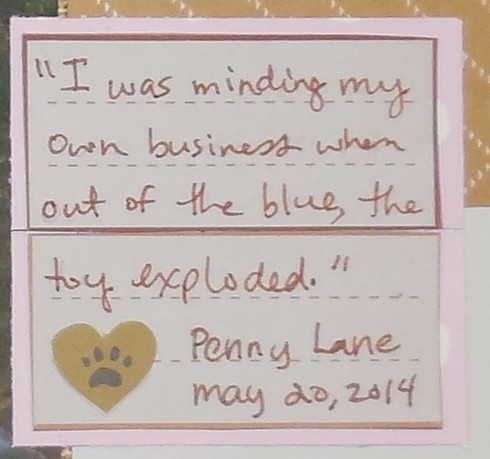 Design is based on the sketch for Sketch with a Twist Challenge. The "twist" was to have a decorative border. I used an EK Success paw print edge punch in black.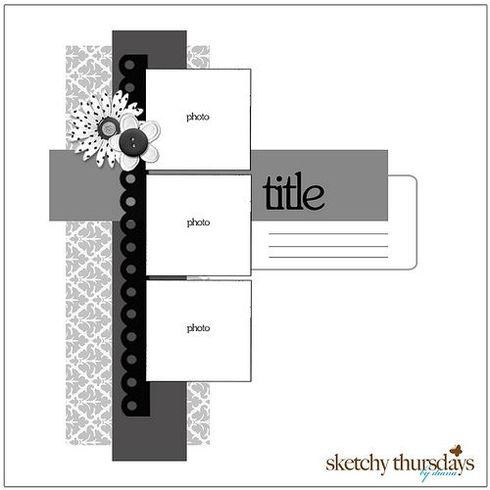 TFL! 🙂