Hello everyone! Two weeks ago, several cherries at A Cherry on Top threw a Winter Crop with challenges and fun games. I used up some older stash, mixed with new stash and had alot of fun.
Layout: As Long As The Sun Is Out
Challenge: What Winter Looks Like (either where you are OR what you THINK it looks like)
Winter in South Texas can be a bit bipolar. We can run the heater and AC in the same day. Ask a Texan: Is it going to be hot or cold today? Answer: Yes. On Jan 1, 2022 we had a high temperature of 95. 36 hours later, we were 27. Penny isn't a fan of the cold but she sure love the sun!
I used PhotoPlay papers, ephemera and stickers; Doodlebug sun and cloud clips; The Paper Studio washi tape; Simple Stories Alphas (pink, blue and grey) and Moxxie alphas (green)
Layout: MEOW
Challenge: Diagnol Design
I used PhotoPLay papers, stickers and ephemera; and ribbon from my stash
Layout: Best Friends Furever
Challenge: Use It Up – use up a sticker sheet or package of embellies and also use something you've been hoarding for a while.
I used up what was left of a Jillibean Soup sticker sheet. I used 19 stickers on my layout. I've also been hoarding the veneers too. I used 5 of them.
I used Bazzill cardstock; Jillibean Soup papers, stickers and veneers; and washi tape from my stash.
Layout: Paws Down I'm the Cutest Dog in Town
Challenge: Washi Tape Challenge – use at least one tag and cover it with washi tape.
I decorated my tag with washi, and then added stickers.
I used Echo Park pattern papers, stickers and ephemera; Bella Blvd washi tape, The Paper Studio ribbon and beads are from stash.
Layout: Oh Yeah!
Challenge: Image Inspiration – use the image below and use at least 3 items that inspire you.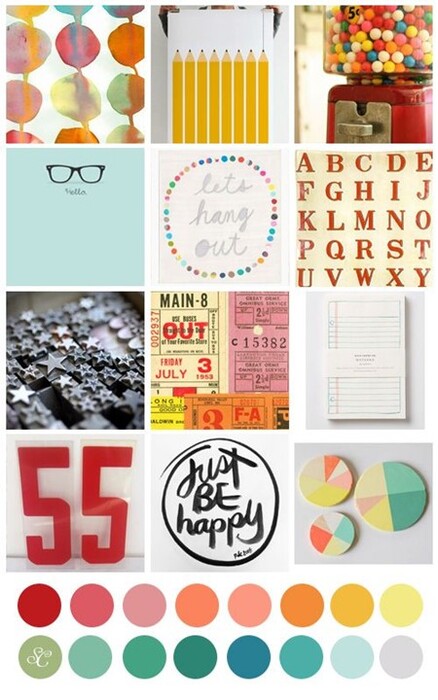 I used all the colors and was inspired by the gum drops, glasses, lined paper, "hello" and bold black lettering.
I used Eyelet Outlet glasses and Simple Stories papers, enamel dots, puffy stickers, foam stickers, and washi tape and ephemera.
Layout: SNOW!
Challenge: Mood Board – 50% of the layout must be grey, and choose at least 3 items that inspire you based on the mood board below.
I was inspired by the heart, "baby it's cold outside" phrase, the pop of pink and hearts.
It snows every 20-30 years here in Corpus Christi. Sometimes it melts before it hits the ground, sometimes we get 10 to 12 inches. On December 8, 2017, we got a light dusting. Makes for some pretty pictures.
I used Asuka Studio papers; Simple Stories chipboard and foam stickers; and glitter washi tape by The Paper Studio
TFL! 🙂